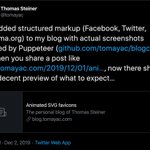 It's also hilarious how @Twitter manages to fsck this up on desktop, but makes it work perfectly on mobile; and in its Validator shows it should work fine universally. pic.twitter.com/mimkW6HSNY
The repetitiveness of the three formats, Open Graph Protocol, Twitter Cards, and Schema.​org, still hurts… 😞 It's 2019, and we still don't have structured markup interoperability.
derSchepp As much as I like to talk about things, as slow I am at writing. So it almost took me 6 months to write my first ever blogpost (also after 15+ years in the business 🙈):

++ Dealing with Ads in 2020 ++
schepp.dev/posts/ad-integ…

Massive THX go to @stefanjudis for proof-reading!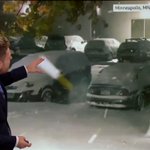 bbcweather When you're a weather presenter and your watch contradicts your forecast….😆
🔊Sound on👇 pic.twitter.com/YXojblKcIQ
@kennethrohde @_zouhir @darktears @MSEdgeDev It's imported from your repo, just make the change and it will update when I pull the next time. I have also just sent you the Glitch invite code so you can modify the project yourself (i.e., click the "import