rowan_m In-depth but accessible exploration of the upcoming #SameSite cookie 🍪 changes. You've only got 2 months left to fix this, so if you don't know what I'm talking about then go read this blog. twitter.com/_panva/status/…
cobra_winfrey with a whole lot of clip-paths, masks and box-reflect I built this generative holiday sweater pen over at @CodePen // if you want to experience the darkest dark mode go ahead and open it outside of Chrome
codepen.io/cobra_winfrey/… pic.twitter.com/89LlkiQe9E
@rick_viscomi @Twitter Thanks, it's probably some sort of caching issue. It didn't render locally in my logged in session at all, but it did render when I opened the tweet individually in an incognito tab.
@tibor @Twitter Yeah, it works fine on mobile for me, too, but looks borked on desktop (it seems to work in an incognito tab, though).

All that being said, you should _really_ charge your phone, your battery charge level makes me super nervous. 😂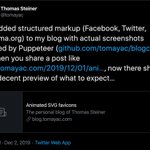 It's also hilarious how @Twitter manages to fsck this up on desktop, but makes it work perfectly on mobile; and in its Validator shows it should work fine universally. pic.twitter.com/mimkW6HSNY
The repetitiveness of the three formats, Open Graph Protocol, Twitter Cards, and Schema.​org, still hurts… 😞 It's 2019, and we still don't have structured markup interoperability.